Today, 30 March, is World Bipolar Day.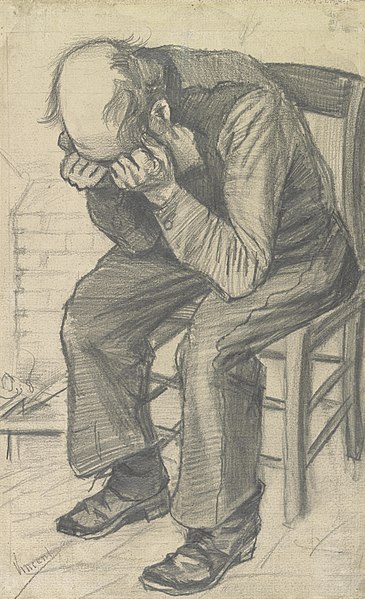 Why that particular date? It's Vincent van Gogh's birthday (1853), and there is a fairly strong argument that the Dutch painter suffered from bipolar (among other things).
The image on the side is Vincent's drawing "Worn Out" (from 1882), and it seems to capture the feeling rather well – whether (hypo)manic, depressed, or mixed. It's exhausting.
Bipolar is complicated, often undiagnosed or misdiagnosed, and when only treated with anti-depressants, it can trigger the (hypo)mania – essentially dragging that person into that state near-permanently.
Have you heard of Bipolar II?
Hypo-mania is the "lesser" form of mania that distinguishes Bipolar I (the classic "manic depressive" syndrome) from Bipolar II. It's "lesser" only in the sense that rather than someone going so hyper they may think they can fly (Bipolar I is often identified when someone in manic state gets admitted to hospital – good catch!) while with Bipolar II the hypo-mania may actually exhibit as anger. Anger in general, against nothing in particular but potentially everyone and everything around them. Or, if it's a mixed episode, anger combined with strong negative thoughts. Either way, it does not look like classic mania. It is, however, exhausting and can be very debilitating.
Bipolar II people often present to a doctor while in depressed state, and GPs (not being psychiatrists) may not do a full diagnosis. Note that D.A.S. and similar test sheets are screening tools, they are not diagnostic. A proper diagnosis is more complex than filling in a form some questions (who would have thought!)
Call to action
If you have a diagnosis of depression, only from a GP, and are on medication for this, I would strongly recommend you also get a referral to a psychiatrist to confirm that diagnosis.
Our friends at the awesome Black Dog Institute have excellent information on bipolar, as well as a quick self-test – if that shows some likelihood of bipolar, go get that referral and follow up ASAP.
I will be writing more about the topic in the coming time.