Posted by Arjen Lentz on January 12th, 2015
Posted by Arjen Lentz on January 6th, 2015
BlueHackers will have a presence at Linux.conf.au (this year in Auckland NZ, 12-16 Jan 2015), the awesome John Dalton is organising the BoF (Birds-of-a-Feather) session one evening, and he'll also have a stash the little BlueHackers stickers that you can put on your laptop to show your support and understanding for mental health. Some stickers may also be available at the LCA registration desk.
Have an awesome time there – unfortunately I can't make it this year.
Posted by Arjen Lentz on January 6th, 2015
Posted by Arjen Lentz on December 4th, 2014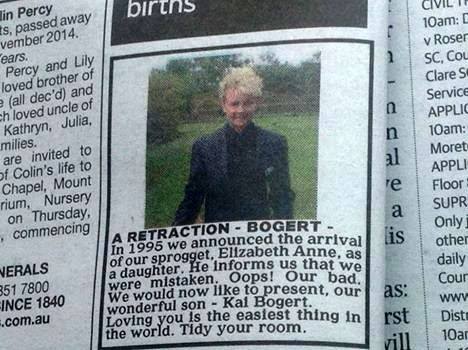 A very nice example of gender acceptance by parents.
Public acknowledgement in this way is awesome – well done to them!
And I figure the "tidy your room" is pretty much a "all is fine and normal, getting on with it" statement. Awesome.Source: Courier Mail (Brisbane AU, December 2014)
Posted by Arjen Lentz on October 10th, 2014
This year, OSDC's first afternoon plenary will be a specific BlueHackers related topic: Stress and Anxiety, presented by Neville Starick – an experienced Brisbane based counsellor.
We'll also have our traditional BlueHackers "BoF" (birds-of-a-feather) session in the evening, usually featuring some general information, as well as the opportunity for safe lightning talks. Some people talk, some people don't. That's all fine.
The Open Source Developers' Conference 2014 is being held at the beautiful Griffith University Gold Coast Campus, 4-7 November. It features a fine program, and if you use this magic link you get a special ticket price, but the regular registration is only around $300 anyhow, $180 for students! This includes all lunches and the conference dinner. Fabulous value.
Posted by jlg on September 16th, 2014
Why is it having mental illness and smoking go hand in hand. I'm looking closer to getting a foot in the door with my dream job doing something I love. I also plan to quit smoking again with my fiance and two friends. It's not going to be easy but I went seven months not smoking. I really don't enjoy it and it costs too much. That and every cigarette takes eight minutes off my life. I'll keep you readers of bluehackers posted about the job. I'm excited..
Posted by jlg on September 14th, 2014
So I managed to last one hour the.other say doing boxing related exercises. After I had cooled down I felt great. Those endorphins are so good for me. I want more but I'm not good at wanting to exercise..
Posted by jlg on September 10th, 2014
Today I officially have begun trying to lose weight. Medications and poor lifestyle choices have put me at very.high risk of diabetes. I also have high cholesterol. Not good. I did 30 minutes of intense boxing exercise. Thanks Ben S. He's my best man for my wedding and a friend for roughly 8 years.
Posted by Arjen Lentz on September 9th, 2014
http://www.huffingtonpost.com/2014/02/17/things-not-to-say-to-some_n_4781182.html
If you've ever suffered from severe anxiety, you're probably overly familiar with the control it can have over your life. And you're not alone — it affects a sizeable percentage of the population.
Learning more about anxiety and stress can be really helpful.
Posted by jlg on September 7th, 2014
I had my first anxiety attack the other day. My lady was off picking a wedding dress. I was looking after our son whom was asleep and it just came on. I got our neighbour who luckily was home that day in his garage working on his cars. It felt like a heart attack. It stopped me from moving my right shoulder properly. I guess now I know I need help, more than a psychiatrist can help with (as they only prescribe medication if you did not know already). I'm looking into a Physiologist. I pay for private health with an awesome company called ahm. I don't ever want to return to needing to go into hospital though. This will be a short post, but never discredit anyone who says they suffer anxiety as it's a serious thing that causes actual physical pain. It wasn't until the GP gave me the all clear I felt better again. Oh, and now I wear glasses as I'm short sighted from many years of looking at computer screens.